About the church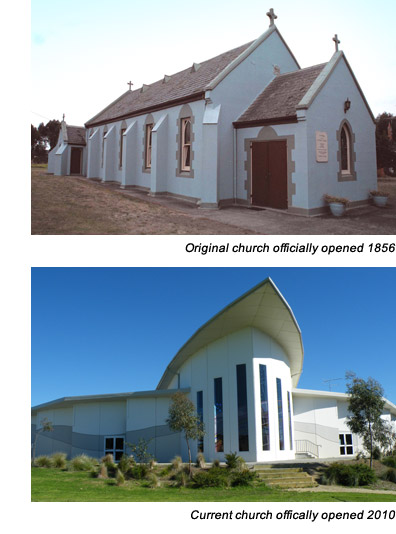 St Thomas Catholic Church is located on Peninsula Drive, Drysdale, situated between St Thomas Primary School and St Ignatius College Geelong. Its location between these two schools represents the Holy Spirit's embrace of the school communities.
St Thomas Catholic Church was the fourth church built in the parish in the past 50 years. It has replaced the original, 150-year-old parish church, which is now part of a nursing home complex and is used for funerals and weddings.
The church's new striking design is modelled on a dove - the dove being a symbol of hope, peace and the Holy Spirit. It has been designed so that the sanctuary can be screened off, giving the building a multi-purpose function.
The church has disabled access with plenty of on-site parking. The church looks out across an open field and is surrounded by beautiful Australian trees and shurbs.
Church open times: St Thomas Catholic Church is open on Sundays from 8.30am to 10.30am unless there are baptisms or weddings to follow, Saturdays from 9.30am to 11am, and Thursdays from 9.30am to 11am. For mass times see the Mass Times.
Catholic Parish of the Bellarine
The Catholic Parish of the Bellarine is made up of four churches: St Thomas, Drysdale; Lumen Christi, Leopold; St Patrick, Portarlington; and Sts Philip & James, St Leonards.
Our Parish Priest is Father James Puppady.
St Thomas: Peninsula Drv, Drysdale
Lumen Christi: Kensington Rd, Leopold
St Patrick: Harding St, Portarlington
Sts Philip & James: Murradoc Rd, St Leonards
For mass times see the Mass Times.
Indigenous Acknowledgement
The St Thomas Catholic Parish acknowledge the Waddawurrung people, the Traditional Owners who have walked upon and cared for this land for thousands of years. We acknowledge the continued deep spiritual attachment and relationship Aboriginal and Torres Strait Islander peoples have to this country and commit ourselves to the ongoing jounrey of reconciliation.

Year of Youth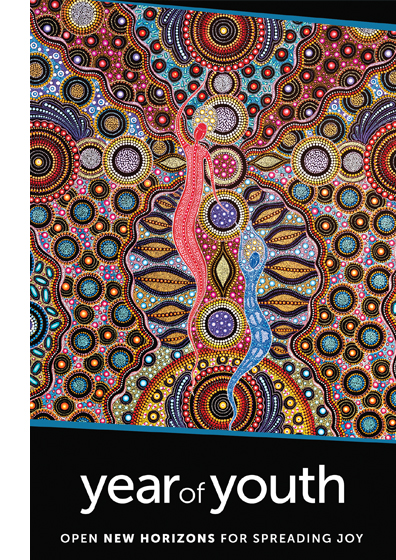 The Year of Youth Aims set by the Australian Catholic Bishops Conference Are:
· To prayerfully discern the Australian Bishops vision for ministry with young people, Annointed and Sent;
· Authentic and personal engagement by Church leaders in the challenges and success in young people's lives;
· Acknowledging the Holy Spirit at work in the lives of young people, and young people acting upon the Holy Spirit in the life of the Church;
· Upholding the dignity of young people, ensuring a safe environment from physical, emotional and spiritual harm.
At St Thomas Drysdale Parish, we are committed to supporting the Australian Catholic Bishops call to engage the young people in our parish. We have committed to having a monthly Youth Mass to engage our young parishioners in the mass, the spiritual and community nourishment that it can offer as well as the social side sharing our lives together over a meal, just as Jesus taught and did during his time on earth.

We have a vibrant and active parish with four mass centres and two schools and we hope to bring everyone together through our shared love of Jesus's message of hope, and discipleship. We actively encourage all those who do come to be a part of the the mass itself, eg reading, offertory, music, powerpoint, organising the pizza dinner, thus bringing us closer as a community.
YOUTH MASS (to celebrate the year of youth)
St Thomas, Drysdale: 4th Sunday of each month at 5.30pm, throughout 2018.
All are welcome.

Parish Schools
St Thomas Catholic Church has two parish schools - St Thomas Primary School and Saint Ignatius College. Both schools use the Church regularly for worship, liturgy, and events.
St Thomas Primary SchooL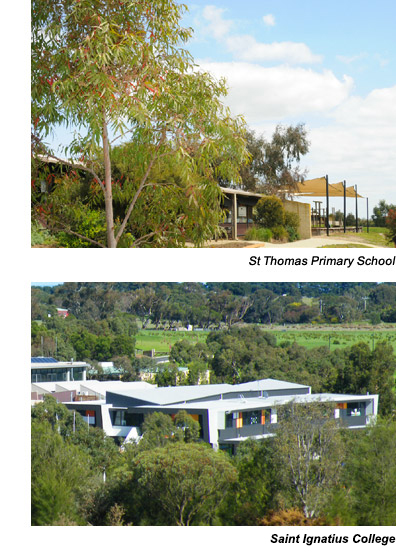 St Thomas Primary School is in the Drysdale Parish situated in the heart of the Bellarine Peninsula. The school was founded in 1997 and has a short but rich history of school, families and parish working together to ensure children are given every opportunity to feel safe and happy at school while they strive to learn and develop.
St Thomas' School Community aims to foster Gospel values and to work in partnership with families to ensure growth in faith and identity as a member of the Catholic community. After initiation by Baptism into the community, then growth in that faith is encouraged within the climate of our Catholic School. Therefore it is the right of every Catholic child to be given these opportunities wherever and whenever it is practically possible to do so. St Thomas Primary School is always actively involved with our local and parish community. www.stdrysdale.catholic.edu.au
Saint Ignatius College
Saint Ignatius College is a years 7-12 co-educational college owned and operated by the parishes of the Geelong Deanery. The College is a proud Jesuit Partner School and a member of the Ignatian Network of 95 schools in Australasia, together with others worldwide that share the spiritual and educational philosophy of St Ignatius of Loyola. The Ignatian Way is to strive for the greater good, educate the whole person (body, mind and spirit) and develop young adults of competence, compassion and conscience ready to serve their community and transform their world.
Saint Ignatius College aspires to form young men and women in the spirit of seeking the magis; through fostering growth in their ability to be discerning persons, our purpose is that they will come to a fuller understanding of themselves as loved by God, and invited by Christ to participate in creating a better world where goodness, peace and justice reign. www.ignatius.vic.edu.au

Parish Child Safety Policy
In repsonse to Archbishop Hart and Archdiocese' professional standards the following policy has been developed within the parish, in addition to the Child Safe Standards and State legislation, to ensure the integrity of our mission and the safety of children and all vulenrable people within the community. The care, safety and wellbeing of children as central and fundamental responsibility of the Church. As Catholics we seek to live the teaching of Jesus Christ, with justice, love and the sanctity of each human person at the heart of the Gospel. To ensure that a Zero Tolerance approach is ensured any concern, observation or allegation must be reported and will be treated seriously, and reported in line with legal obligations, our moral obligations and our Church policies.
A copy of our additional parish response can be viewed HERE
Universal Child Safe standards from the Archdiocese of Melbourne can be viewed HERE